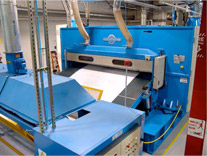 Warm Industrial Nonwovens offers natural and bleached cotton fiber, rayon and a variety of different polyester fibers for needlepunch, garnett, thermo bonding and even saturation coating. WIN also provides heat activated pressure sensitive fusible webbing, Pin Sonic welding and filtration media. We welcome the opportunity to quote on any of your nonwoven needs.
Click on the link below to view all of our diverse capabilities.
Innovative Solutions in Nonwovens
We offer a multitude of raw materials and comply with the stringent ISO quality processes. WIN is focused on giving you the quality and consistency your company demands. Every roll of material has a sample cut allowing the machine operator to visually inspect and weigh the sample. When the roll is complete, it is weighed on our calibrated scale and a bar code is created. The bar code does not print unless the weight meets your specifications within the standard tolerances of +/- 10%. All of our procedures are monitored by outside sources annually and randomly throughout the year, ensuring consistent quality.
Aside from natural, bleached and medical grade cotton, we also process synthetic fibers such as polyester, nylon, polypropylene, rayon, acrylic and PVA. WIN is capable of manufacturing large quantities with minimal lead time. Call today for a quote!